HySweep - Multibeam Software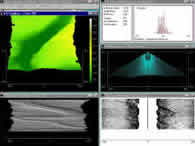 Data collection in HYSWEEP® is now performed by the HYSWEEP® SURVEY program. This program now has improved time-tagging (sub-millisecond) for all devices.
The HYSWEEP® SURVEY program receives navigation data directly from the HYPACK® SURVEY program. The multibeam and heave-pitch-roll sensors are all connected directly to the HYSWEEP® SURVEY program which displays and logs the combined data.
HYSWEEP® SURVEY is one of the few programs which can provide you with real time quality control information, including Nadir -v- Single Beam statistics.
This allows you to prove to your contractors that your multibeam system does not give results different than single beam measurements.
HYSWEEP® SURVEY also provides for real time painting of the bottom with color-coded depth information. It displays and logs side scan data from multibeam systems and allows for real time feature targeting.
See more equipment.
To request a call for further information click here.