Reson Seabat 8125 Multibeam Echosounder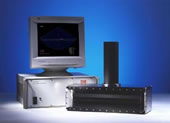 Focused 0.5° beams - 240 beams - 2.5 cm near field resolution - 6 mm depth resolution - 120° sector coverage.
The SeaBat 8125 can be used in the following application areas: micro-bathymetry, mine location, extremely high resolution imaging.
The SeaBat 8125 is the first wide-sector, wide-band focused multibeam sonar ever to be deployed. Utilizing 240 dynamically focused receive beams, the system measures a 120º swath across the seafloor, detects the bottom, and delivers the measured ranges at a depth resolution of 6 mm. The backscatter intensity image is displayed in real time on the sonar display.
The 8125 can be controlled through its native graphical user interface or from a multibeam data collection system, such as SeaBat 6042 version 7.
The system can be mounted on a survey vessel or deployed on an ROV at depths down to 1500 m (standard 600 m, 1500 m is an option). The high-speed data uplink is carried on a standard SeaBat copper cable for surface installation. A fibre-optical interface is available for ROV deployment.
Two 8125 systems can be configured as a dual-headed system, and for complete control the SeaBat 6043 image fusion and controller merges the images of the two sonar heads into one.
Frequency: 455 kHz
Depth Resolution: 6 mm
Swath Coverage 120°
Max Range: 120 m
Number of beams: 240
Along-Track Beamwidth: 1°
Across-Track Beamwidth: 0.5°
Accuracy: IHO Special Order
Operating Speed: Up to 12 knots
Max. Update Rate: 40 times/sec
Transducer depth rating: 600m
Clydeside Surveys operate the 8125 for bathymetry and special applications such as quaywall inspection, via HySweep.
See more equipment.
To request a call for further information click here.