Hydrotide Automatic Tide Gauge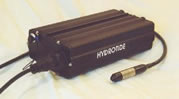 HYDROTIDE is a purpose designed recording tide gauge for long term monitoring of tidal activity in unattended remote locations.
Changes in pressure due to changes in head of water are detected by a semiconductor strain gauge transducer. These changes are recorded at pre-set intervals within the data loggers solid state memory.
The pressure transducer is manufactured from titanium and stainless steel and suitable for long term immersion in most liquids. The transducer is connected to the logger via a single small diameter cable which also contains a micro bore pipe and thus allows atmospheric pressure to be applied to the rear of the transducers diaphragm. This provides accurate and calibration free compensation for changes in ambient atmospheric pressure.
The HYDROTIDE data logger is housed within a rugged, water tight aluminium enclosure. Connections are made via water tight connectors. Power is provided by a battery pack located within the HYDROTIDE case. This provides sufficient power to operate the unit for five years.
The user has a wide selection of sampling regimes which are preset into the logger using simple MSDOS PC based software. With a typical schedule of data averaged over 10 seconds and the average value recorded every ten minutes, the memory endurance of the system is 138 days.
The HYDROTIDE data logger is programmed to make a number of samples of the pressure transducer each lasting 0.75 seconds. By averaging these over an operator selecteable averaging period, wave motion is filtered out. The average depth value in metres is recorded and time/date stamped. Corrections for water density can be applied by calibrating in situ if required.
The MSDOS PC software allows loggers to be set up and data downloaded. Once downloaded, data may be archived to disk, printed as a time series, graphed, or exported to spread sheets and data bases.
The HYDROTIDE is supplied complete with 1 bar (10 metre) pressure transducer with 15 metres vented cable and operating manual.
SPECIFICATIONS Sensor: Semiconductor strain gauge with atmospheric venting via pipe in cable
Range: 0 - 10m with automatic atmospheric compensation as standard
Resolution: 0.0015% (16 bit conversion accuracy) Storage accuracy 0.025% Clock Accuracy: +/- 1 second per month
Update period : Selectable in 1 second intervals from 10 seconds to 100 hours
Averaging period : Selectable in second increments (each sample 0.75 seconds approx.)
Memory: 20,000 records (averaged values)
Power supply: 9v @ 18 Ah
Endurance: 138 days at 10 minute logging (20,000 averages)
Battery endurance: 5 years (at 10 minute logging and 10 second averaging)
Backup power: Independent Lithium battery for memory back up
Communications: RS-232 link to PC
Software: PC MSDOS based. Allows set up, down load and graphing plus export to spread sheets etc
Construction: IP 67 aluminium case with venting membrane
Dimensions: 148mm x 76.5mm x 260mm long
Weight: 3 Kgs
See more equipment.
To request a call for further information click here.