TSS CMS25 MRU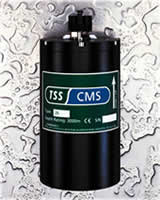 TSS COMPACT MOTION SENSORS
The TSS Compact Motion Sensor (CMS) incorporates the latest silicon gyro technology for the new Millennium. EMC and CE rated user configurable output formats. No data latency DMSView for MS Windows operating system.
The CMS is designed specifically to meet the motion measurement requirements of a diverse spectrum of marine users from single-beam echosounders to dynamic positioning systems. The CMS can accept external velocity aiding for enhanced performance in all weather conditions and during dynamic vessel manoeuvres.
The innovative chassis features a single processing board incorporating the latest in multi-layer surface mount technology to maximise reliability and reduce the overall size of the sensor.
The integration of the latest silicon gyro technology has enabled TSS to offer a balance of cost versus performance. Small, light and with a low power consumption the new CMS offers a family of sensors with performance to match a range of budgets each benefiting from the same high standard of design and manufacture.
In addition to configurable outputs via the all new DMSView for Windows, the CMS provides real-time heave, pitch, roll and yaw in digital and analogue formats.
See more equipment.
To request a call for further information click here.