Ultra 120 Thermal Recorder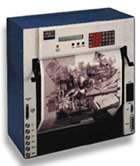 Unique Ultra technology provides compensation at all speeds, all temperatures and all grey levels across the full print width.
Interface: Three channel analogue interface with serial and parallel digital inputs as standard.
Printing: 12" print width with compensated true grey-scale printing.
Compatible: Suitable for use with existing 3710 thermal paper
Rugged: robust, 19" rack-mountable design
See more equipment.
To request a call for further information click here.